Half a century ago when Sleeping Bear went official and more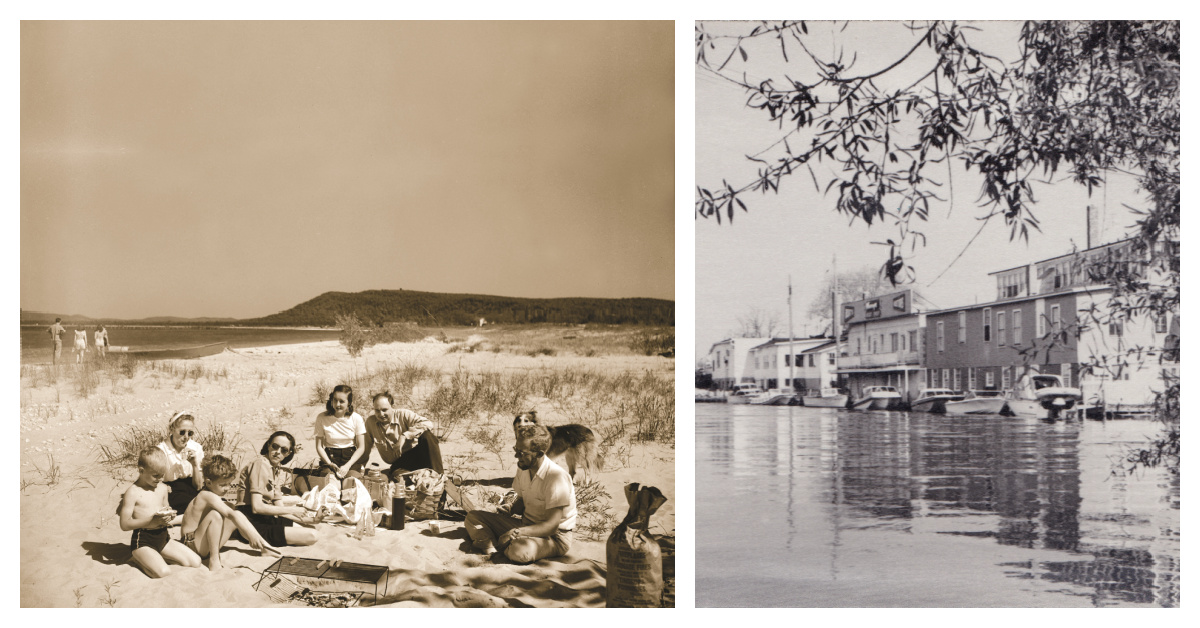 By Ross Boissoneau | 24 October 2021
Things were very different 50 years ago. It is The Ticker second of three Sundays looks back on the history of Traverse City over several landmark periods. Around 1971, protests against the Vietnam War were common, a man named DC Cooper hijacked a plane and refloated somewhere over Washington State, and the Public Health Cigarette Smoking Act was passed and cigarette advertising was banned on television and radio.
On the sunniest side of the street, Walt Disney World has opened in Florida. John Lennon released Imagine and Carole King released Tapestry, which remained on the Billboard 200 chart for 318 weeks, until 2011. All in the Family debuted, as did Soul Train.
Closer to home, Cherry County's new airport had opened a few years earlier, replacing Ransom Field. Northwestern Michigan College celebrated its 20th anniversary and the City Opera House was designated a Michigan State Historic Site. Gordie Howe played his last game as a member of the Detroit Red Wings (although he later played for the Houston Eros of the World Hockey Association). He would later become a resident of Traverse City and was the namesake of the Gordie Howe Tavern and Restaurant on Garfield (now Agave Mexican Grill) and the Howe Ice Arena at the Civic Center.
It was in 1971 that the Northwestern Michigan Fair bought the site where the event is now held on Blair Townhall Road. The Fair Association had approved the purchase two years earlier, and it finally moved there in 1975.
A few prominent TC companies started around 50 years ago, including Scuba North. Current owner Bob Thorpe has been on staff for over 20 years providing equipment, lessons, training and more.
What there aren't that many wrecks to explore nearby, Thorpe says the waters of Lake Michigan offer ancient docks sites, marine life, underwater cliffs and rocky reefs, and a excellent visibility. "It's a great place to train. We attract people from all over the world to train.
It wasn't until a few years after the start of Scuba North that Stewart-Zacks opened, a brainchild of Mary Stewart "Stewie" Zacks and her husband Ken Zacks. The two moved from Birmingham to open their fabric store in downtown Traverse City after being introduced to the area by friends Carol and Don Worsley in 1971. "My parents had a store in Birmingham, and we decided that we could do it in the north. said Stewie.
Sleeping Bear Dunes National Lakeshore was established in October 1970. At the time, the National Lakeshore faced opposition from a large number of landowners whose ownership would eventually be handed over to the government.
Many of its events planned for the 2020 anniversary have been scuttled by the pandemic, so in keeping with its '51 is the new 50′ theme, it has celebrated its 50th anniversary all year round.
Mother Nature also had a surprise in mind for this first year. In March 1971, a storm knocked down a large part of the dunes. A total of 21 acres at the north end of a bluff tumbled without warning into Lake Michigan.
In the summer of 1971, visitors began to pour into the area, although Congress had not yet provided funding for the acquisition of properties. Sleeping Bear's notoriety increased dramatically when it was named "America's Most Beautiful Place" in 2012 by viewers of ABC's Good Morning America. Today, the endless dunes and vistas are visited by more than a million people every year.
Third Level Services has served the community since 1971, offering a variety of services aimed at youth and young adults. It started as North Country Salt in 1971, when several young people proposed a crisis center that would meet the emotional and physical needs of their peers experimenting with drugs. Over the years, it became the Northwest Michigan Council on Drug and Alcohol Abuse before becoming Third Level Crisis Center.
On January 1, 2014, it officially merged with Northwestern Michigan Child and Family Services.
One of Traverse City's arts organizations dates back to its beginnings half a century ago. A group of art lovers gathered at the Petoskey Public Library in January 1971 and founded the Crooked Tree Arts Council to sponsor and encourage artistic activities among residents of Charlevoix and Emmet counties. Seven years later, the organization purchased the old United Methodist Church in downtown Petoskey as its headquarters. Thirty-seven years later, in 2015, the Crooked Tree Arts Center merged with ArtCenter Traverse City and took up residence in the old Carnegie Building on Sixth Street, which once housed the Traverse Area District Library.

Comment